Gagaism.org is proud to bring you this special interview with the mastermind behind the viral fan video to Lady Gaga's 'Bloody Mary.' Read on to unlock the video's mysteries and see exclusive behind-the-scenes pics!
By Scott Finley
Follow Scott Finley on Twitter

This article has been re-published with our permission in the Fall 2011 issue of IN Magazine!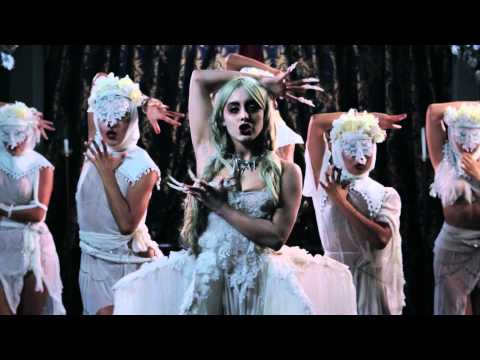 In just two weeks, 'Bloody Mary' has racked up over 650,000 views on YouTube. (Update: Now over 8 million!) This is quite a feat, even by viral video standards.
Today, Gagaism.org is proud to reveal our exclusive three-page interview with the very talented Ruben Cortez. Past the cut, you can read about the cast and crew of 'Bloody Mary,' the inspiration and meaning behind the video, and much more, including exclusive behind-the-scenes photos!
Scott Finley: First of all, congratulations on reaching nearly one-half million views on your 'Bloody Mary' video after only a week! (Over 650,000 as of press time.) That is quite an accomplishment.
Ruben Cortez: Thank you so much! It's more like a dream come true! I definitely feel accomplished.
Scott: Are you surprised at how popular and well-received your video has been so far?
RC: The term surprised does not even cover it. It's more like shocked! I mean, you expect your family and friends to butter you up and tell you your video was nice, and I really thought that was the most it would ever get. You can just imagine my face when the view count on YouTube started going crazy. I just couldn't believe it. Not to mention all the wonderful comments people have been leaving. It really still blows my mind just thinking about it.
When I was uploading the video to YouTube I was already preparing myself for a wide range of negative comments. Then I remember the first two days all the people who worked on the video would call me about every hour just to tell me how many views it was getting and to read back comments to me. It was insane! I just didn't want people to think I meddled with one of Gaga's songs and portrayed it wrong, and I am very happy people received it well.
Scott: Tell us a bit about the concept for the video and how it relates to the song.
RC: The concept of the video is based around a tale of revenge.
When I first listened to the song, I interpreted the lyrics to be the representation of a mourning woman who is having trouble accepting losing something dear to her heart, and I couldn't help but feel as though a malicious ghost was singing the song, especially with the arrangement of the vocals.
I pictured a tortured spirit wandering a castle, singing of her demise for so long that it has led her into a sort of insanity. A soul that was once pure, now led down a dark path in the afterlife. So I created a story for this tortured ghost, in which she was once a Queen that ruled happily with her King.
Until one day, the bitter sister of the Queen murders both rulers to gain control of the throne. Time goes by and the new Queen rules her kingdom satisfied and alone. Until the mourning ghost of her sister comes back to haunt her, and the tortured soul makes it clear that she wants her kingdom back.
Scott: What, in particular, made you choose the song 'Bloody Mary' for your project?
RC: I am a big horror buff, so anything that has to do with the supernatural just immediately grabs my attention, and this song just had supernatural written all over it.
I was initially going to do a short horror film for my final project, but I was very torn due to the fact that I wanted to make a music video as well. I thought to myself, "I need to find a song that will incorporate both together." Then, as soon as I listened to Bloody Mary I knew it was the perfect song. It just takes you on an eerie journey into a lost tale. It feels like you've traveled to a lost era in a fantasy world, and I was really enjoying that.
Scott: The video seems heavily inspired by your video for 'So Happy I Could Die.' Are the two videos meant to be directly related?
RC: Bloody Mary pays a great deal of homage to So Happy I Could Die. Two completely different stories, but they share similar styles and structures. The reason is that we wanted to show everyone how far we had come from the SHICD video, which was filmed exactly a year before Bloody Mary.
When we shot SHICD, we basically just jumped into the deep end. It was our first time staging something that big and as much as we love that video, there were a lot of things we wished we knew going into the project. There was a lot of "on-set learning" which left us with an unsatisfied desire to do certain things differently.
Bloody Mary gave everyone that opportunity. Everyone picked up their game, brought in all their knowledge that they had gained in the past year, and put it to the test. We were given a second chance at perfecting a craft we started a year ago, and oh man, did everyone show their growth!
Scott: Many of Lady Gaga's videos feature themes of BDSM and the juxtaposition of the elegant and the so-called depraved. Both of your videos explore the same themes. Is there something in the music itself that you feel leads to this sort of visual interpretation, or were you perhaps inspired by Gaga's approach to her material?
RC: I honestly feel it is a mixture of both, and some other factors. Gaga has definitely left an imprinted style on her music videos, fashion, and life that has become one with her songs. You cannot avoid the influence, as her music is a sole representation of her art, which is what makes it unique per se. So Gaga's "out there" approach had always been inspirational when writing these video treatments.
I feel that both SHICD and Bloody Mary are very dark songs that worked well with this feel. Also, the fashion designer is a big fan of showing skin, so his style was also incorporated into the feel for the video, and yet his direction was also influenced by Gaga's previous works.
Scott: Your direction of both videos is extremely impressive. 'Bloody Mary' in particular is far-and-away the best fan-made video I have ever seen. There is a certain quality to its direction that is very striking and engaging. What would be your best piece of advice to other directors looking to distinguish their work from that of their peers?
RC: Wow, that is quite the compliment! Thank you! If anything I would say just create, create, and create some more! I think the one thing that plagues us young filmmakers is a big case of insecurity which leads us to restrict ourselves and try only things that will guarantee us safety. I highly recommend doing little projects with your own little camera at home or with friends. It gives you the freedom to explore every aspect of your mind, and you do not have the pressure of failure on your shoulders. All the practice will definitely help you build your own craft.
I started picking up the camcorder when I was twelve and would just push record and film the most random things. I would try to make little  music videos, comedies, romances, dramas, and horrors with my little nieces and nephews. It sounds really funny but I started to catch things that I really liked to do, and with trial and error, I learned what kind of stories I enjoyed telling the most, and I definitely learned what I was not good at. I found my love for music videos and horrors by doing that.
So, it doesn't matter if it's a project that is going to take two hours with your best friend. Film it! The experience is invaluable and priceless.
Scott: Who are the two female leads in the video? How did they become involved in the video and what was it like working with them?
RC: The girl who played Bloody Mary, Natalia Esquivel, is one of my oldest friends. When we were in high school we had drama class together. When I began pre-production on So Happy I Could Die, I asked her if she might be interested in taking on a role. She was super excited and agreed to be in it, and ever since then Natalia has become my partner in crime. She was not the lead for that video and I always told myself, "If I do another Gaga video she definitely has to play Gaga."
So when the Bloody Mary project moved forward, she was the first person I called.  She is very hard-working and has come a long way in the past couple of years. It's such an uplifting experience to have her on set because her personality just shines and we get along very well, not to mention it helps that she has a deep understanding as to how I work and what I'm looking for. I think if I could I would use Natalia for everything!
The evil queen was played by the very talented Amelia Jackson Grey. I had the pleasure of meeting Amelia when I filmed a very light-hearted concept music video for a song called 'Taker' by Alexz Johnson. I had lost my actress the day of my shoot. My friend pulled a miracle and told me about an actress who was willing to take over the role, thus Amelia came and saved the day. I honestly can say it was the best mishap that could have ever happened to our crew and I because she blew us away.
As I was developing Bloody Mary, I went on my friend's thesis shoot, in which Amelia was part of the cast. While we were on set, my project came up and she showed a lot of interest in Bloody Mary. I was honored that she wanted to work with me again, and I knew she would make the perfect Queen. Amelia is another actress who brings laughter and good energy on set, so working with her again was a wonderful experience.
Scott: I must also give special recognition to your choreographer and fashion designer. What is your relationship to them, personal or otherwise, and what was it like working with them? Did you collaborate much with them and did they collaborate with one another, or did they develop the fashions and choreography independently?

RC: Without them this project would probably fall to the ground. Actually, no, it would! They were FANTASTIC!
Bryan Hearns was the fashion designer for the project. He is definitely one of the most talented individuals I have ever had the pleasure of meeting. We shared mutual friends in high school, but I didn't come to fully meet Bryan until pre production of SHICD. I was asking all my friends if they knew of anyone who could make costumes, and my friend Erika told me about Bryan and how he had just graduated FIDM.
So I literally contacted him weeks before the shoot and asked him to pull a miracle and create all the crazy costumes. He made all the costumes in a matter of a couple of weeks from New York, and I was jaw-dropped impressed. He was literally the first person I called when I had the video treatment for the video, and we went crazy discussing the outfits.
Bryan definitely kept me in the loop about the fashion side of the visual, and guided me through all of that. His work method is insane!  He understood what I wanted and took it to another level. We definitely had some head-bumping moments and we are both very stern about what we wanted, but working with Bryan has helped me grow in many artistic ways and has been a phenomenal journey that I wish to continue.
Nicholas Kanyer did the choreography for the video. He was one of my dancers in the SHICD video, and I asked him to do the dances since his style is more contemporary, so I knew he would do a perfect job with making the slow dances ooze with eeriness. He brought in his own dancers and they were all a delight to have on set! Nick is amazing at what he does and is the biggest goof ball, especially on set. So, it was really fun to have him around, having him dance everywhere.
I explained my vision to both of them and basically gave them creative freedom and trusted them with carrying out that vision, but at the same time we all collaborated with one another, Bryan would check in with Nick to make sure the dance moves were compatible with the outfits and vice versa. All three of us were together at dance practices discussing what worked well from each field.
Scott: Did you and your cast and crew face any particularly difficult challenges in the making of this video? If so, what were they and how were they overcome?
RC: I think we faced every challenge that could have been thrown at us. The biggest was time and money. We prepared the shoot in a month, and we had a budget of 4,000 dollars that had to be dispersed appropriately to every department. It may sound like a lot but that money goes super fast! So we were always stressed about improvising and getting things to work.
We also decided to build our own sets, so we ended up making 35 movie flats, which was quite a challenge. I actually think the art department had the hardest time. They pulled off amazing elaborate sets with very little resources. Erika Alcoran, who was the production designer, literally invaded my house and took a bunch of paintings and a bunch of props that actually made it into the video. I was very impressed by how they used what they had and made amazing sets.
Scott: Similarly, were there any major challenges you faced in school before reaching your final project? How did you overcome them and what advice would you give to other film students facing difficulties with their lives and/or education?
RC: It was really hard to keep focused on the educational part of school because my mind was consumed with the project. I would leave things until last-minute which caused an intense amount of stress.  I had to really prioritize and get things done as soon as they became apparent.  The best advice I can give is DO NOT PROCRASTINATE. It is the worst thing you can do as a film-maker.
If I have learned anything at school is that preparation is key. The more prepared you are, the more time you have to concentrate on the creative part of your project, and you have less time to be consumed by everything else. You have to be on top of everything and take care of things when they are meant to, or else everything suffers, even your project.
Scott: Thank you for granting us this interview. We are so thrilled to present this story to our readers and show them the outstanding work you have done.
RC: I have to thank you again for showing interest in our project. I know our crew and cast appreciate it very much, and again we are just honored!
Excluse Hi-Resolution Photos: 'Bloody Mary' – Behind the Scenes!